Product Details
With the loss of our first beloved family pet, we did not feel there was a product that helped us properly memorialize the unique bond we had grown to have. It was important to us, that we honor the life we shared.
The hand-crafted, heirloom quality custom plaque can be proudly displayed in any home, office or business.
My Cherished Paw's easy to use impression kit, utilizes a non-toxic polymer clay to capture the intricate details that are as unique to your pet as the bond between you and your pet. You can SEE, TOUCH and actually FEEL your pet's paw forever.
See The Difference
Compare a My Cherished Paws© 3D Paw Print casting to a standard two dimension impression: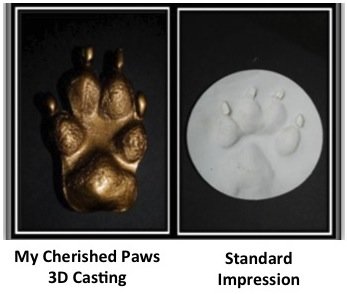 Each My Cherished Paws© 3D Paw Print Plaque is handcrafted and customized just for you. When placing your order, you will be able to select the options that make your plaque 100% uniquely yours. Please allow three weeks to receive your custom plaque.